Ranthanbhor National Park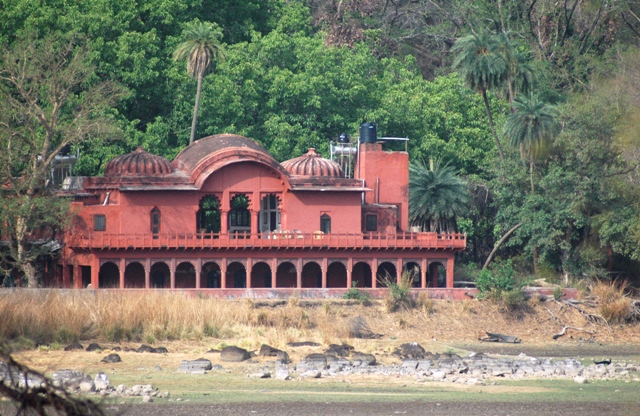 This Ranthambhor National Park spans in about 410 Sq.Km.and is situated in South East of Jaipur on the way to Shivpuri or Kota. about 1890 Km away from Jaipur. It has Project Tiger so has Tiger ( Panthera tigris) as flagship species besides Panther , Sloth Bear, Sriped Hyena ,Caracal, Rusty Spotted Cat, Jungle Cat, Indian Civet, Mongoos ,Python Monitor lizard, Sambhar deer, Spotted Deer, Blue Bull, Wild Boar and over 350 bird species recorded in all seasons like Painted Red Spur Fowl,Painted Sandgrouse, Eurasian eagle Owl, Indian Courser, and Yellow wattled Lapwing. The forest is dry Deciduous type and on hill slopes it has mostly "Dhok" (Anogeissus pendula), " Salar" (Boswellia serrata ),Babul ( Acacia nilotica ), Ronjh ( Acaciaa laltifolia) etc. The park has some lakes namely Raj Bagh, Milak Talab and Jogi Mahal lake which store water during rainy season and is the main source of drinking water for animals inhabiting the park.Park also boasts of a very strong and beautiful fort and in adjoining Man Singh sanctuary and Kaila devi sanctuary the animal life is similar.
The Ranthambhor National Park is well connected by trains because of located on Delhi -Bombay route (www.indianrail.gov.in , www.irctc.co.in) as well as roads. The nearest airport is Jaipur Airport.
ABOUT | HOW TO REACH | ROOM TARIFF | SITE SEEING PLACES IN JAIPUR | SITE SEEING TICKET & CHARGES
CAR ON RENT | COOKING CLASSES BY DR. SMITA | FACILITIES & SERVICES | HOME COOKED VEG. MEALS | SITE SEEING PLACES NEAR JAIPUR | NATIONAL PARK IN RAJASTHAN